Overview
This document provides the information on how to configure access to PURE storage arrays using FlashArray (REST API 2.*) Firmware 5.3 or greater
Configure access to PURE storage arrays
Open and log in to PURE app dashboard.
Once entered, select Settings from the left panel.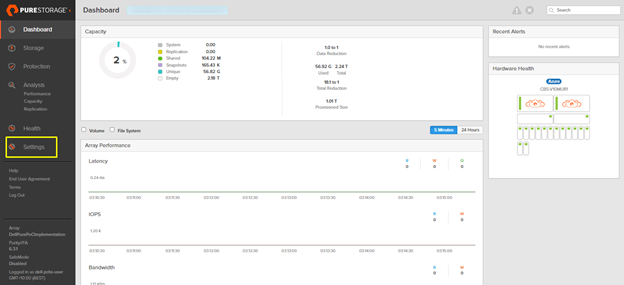 Select Access in the header menu.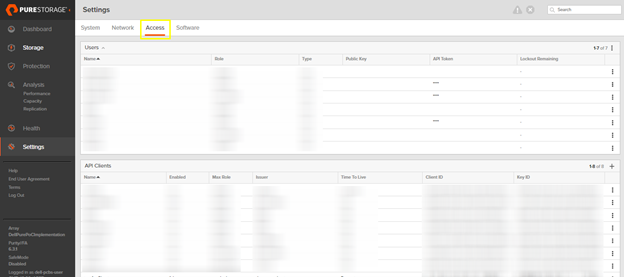 Go to API Clients section and click on the + icon. Select Create API Client option.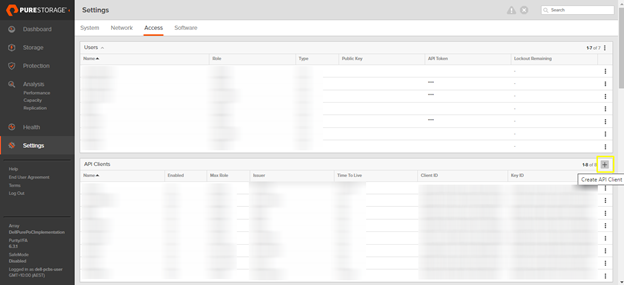 Fill in the following fields:

Name: is the name we are going to assign in the API client.
Issuer: must be a valid user of the system. Look in the Users section, in the name column.
Role: must be Read-Only.
Time To Live: must be set this field to no less than 5 minutes.
Public Key: Using this key (cut and paste these exact highlighted lines)
-
----BEGIN PUBLIC KEY-----




MIIBIjANBgkqhkiG9w0BAQEFAAOCAQ8AMIIBCgKCAQEA4r4idcCOyPGbtE6adtjQ




LzKxXekw/+BcXRgia8jiRDLVudprqB+EA9SzogRPG+zg6trDsCGoemsVxBggAxmV




WFmnUjFhH0RtTkz7OwVdbqUkkm3kAjZepjU1QeHMa4YgB9XzJwU6YhmSVBFzrrHx




qbmMBxQXH0oF4VdNPQlnWlbsNZp+nJBeZSL4jwbRr9diEJrG0iCY+MNK5lXPPgQV




xw+c8gS2T7o7KTVvXVwjtKFMpsfIxtHgWjPDBYV+mdCUdKOiJx8bGyGeUOgyUq+p




9fXVvzERWSMxjcpkukwXKXNt/3eQEa0+ka+pRnuIWwr63rYtDnDEv8hJPMPrH3LU




CQIDAQAB




-----END PUBLIC KEY----

-
Once completed click on the CREATE button.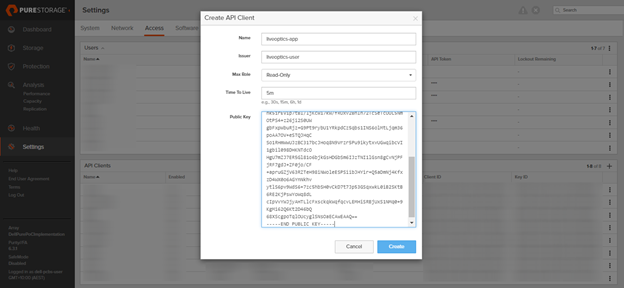 The API client will be added to the API client is disabled by default. To enable, select the three dots to the right and select Enable API Client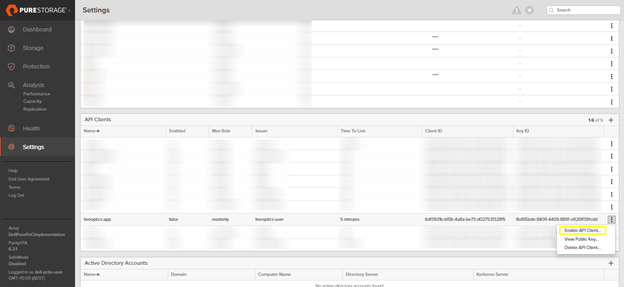 A pop-up will be displayed; click on Enable to confirm.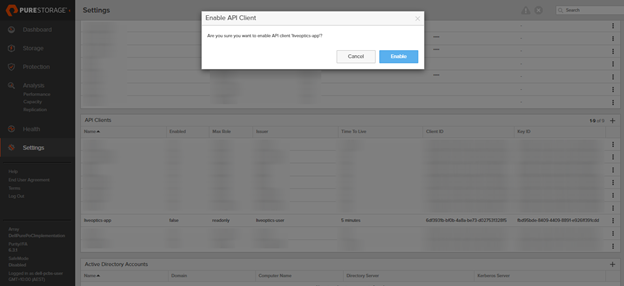 9. Once confirmed, the column Enabled is TRUE and the API client is added successfully.