Overview
Live Optics allows you to understand vital information about your NetWorker environment. To start, it is important to gather the pertinent data files of your backup environment. Live Optics provides you with a simple process to gather, parse and, ultimately, present your data in a clear and understandable way, so that you can make informed decisions to optimize your backup infrastructure. The collector, and PowerShell file-gathering program, are signed and verified by the Dell Certificate Authority. The file-gathering program uses the backup application's specific commands to generate these files.
This document provides instructions on how to run NetWorker Scripts.
Pre-Requisites
The following list is required to follow the instructions below.
1. You are an End User with Administrative access to NetWorker
2. For a Windows NetWorker Server, PowerShell is installed
3. You have downloaded the latest version of the Live Optics Collector
4. Click "Yes, this is me" after verifying your identity is correct (prompted only on first execution)
5. Select Data Protection from the left menu
6. Select NetWorker
7. Select API collection (This collection supports Networker OS versions starting 19.1)
8. Enter the NetWorker server DNS Name or IP address
9. Enter the admin username and password
10. Select the Upload Option, either upload automatically (recommended) or upload later
11. Click Next
12. If upload automatically was selected, enter the project name to be created, click Next
13. If upload later was selected, enter the file name and directory to save the .SIOKIT file
14. Click Continue to gather the data – this may take a few minutes
15. If upload automatically was selected, the data will be sent to the Live Optics portal
16. An option to create a .SIOKIT for backup is provided, this can be skipped or the file can be created at this time
17. If upload later was selected, the .SIOKIT will need to be manually uploaded to the Live Optics portal.
18. Click Quit to exit the application
Detailed Instructions
Download and run the Live Optics Windows collector software
1. There are two methods to download the collector software:
a. From the email you received from your systems consultant inviting you to Live Optics by clicking the Download Collector link.
b. From the Live Optics portal, select Collectors from the left menu, then Download Collector. For more information on how to download a Live Optics collector, please see knowledge base article Download the Live Optics Collector Either option will bring you to the Download Collectors page.
Start Profile Selection Process
2. Select Data Protection from the list of Category Types and select NetWorker from the list of Data Protection assets.
3. Select API collection (Recommended), which supports NetWorker OS versions starting 19.1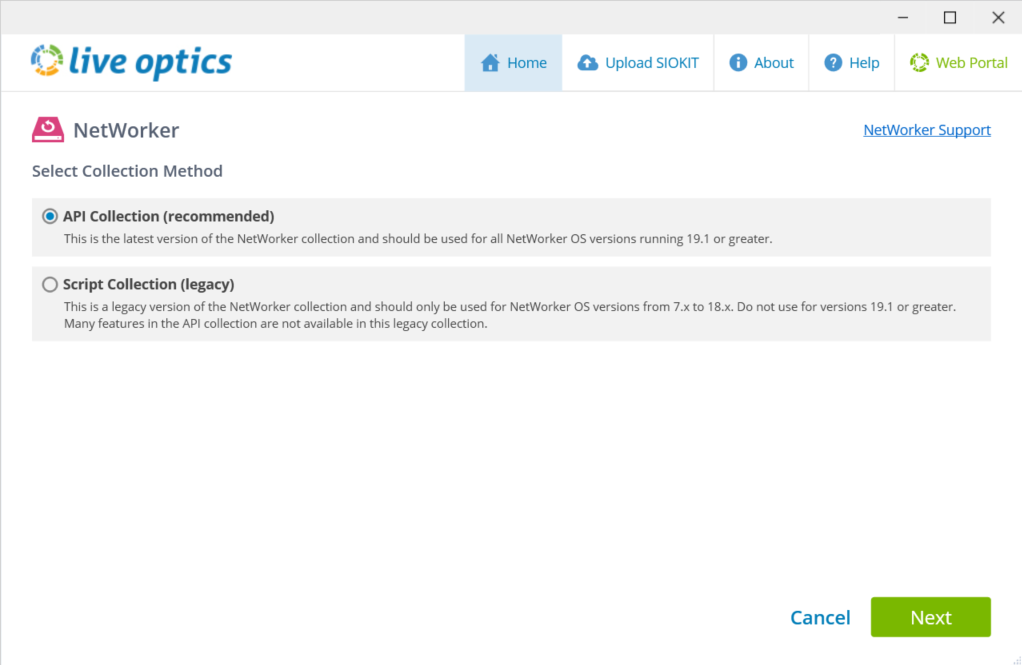 4. Enter the NetWorker server DNS Name or IP address, username, and password. The username should be the admin or admin equivalent account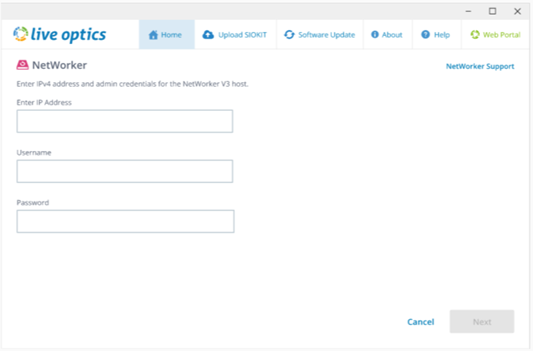 5. Click Next
Start the Collection
6. The collector will connect to the NetWorker server and capture the data here
Select the Method to Upload to the Live Optics Portal for Processing
7. Selecting the default, "Upload my collection data to the Live Optics web portal automatically" is the recommended method. Once the collection is complete, the data is automatically uploaded to the Live Optics portal. Use this option when the host running the collector has Internet access
8. There is an option to upload later. This will save the data to an encrypted file, named [hostname]_NetWorker.siokit. The file is written to the same folder the collector was executed. Use this option when the host running the collector does not have Internet. Instructions for uploading the .siokit can be found at the end of these instructions
8. Once selected, click Next
10. Enter the name of the project that will be created in the Live Optics portal
11. Click Next
Upload the data to the Live Optics portal
12. Once the collection is collected, it will be automatically uploaded to the web portal
13. During the upload, a status bar indicates the progress. The upload may take some time to complete depending on the speed of the Internet connection
14. The collector will indicate when the upload has been completed
Process has completed successfully
15. Once the upload has completed. Click Quit to close the collector
16. An email from Live Optics will be sent when the project is ready for viewing on the web portal
Uploading the SIOKIT (applies only if the "upload later" was selected)
17. The Live Optics collector software is used to upload the SIOKIT files using the Windows collector. See knowledge base article Uploading SIOKIT file in the Live Optics collector
View Project Results
18. Log in to the Live Optics web portal https://www.liveoptics.com
19. Recent projects are listed on the dashboard
20. Select the project
21. Click on the Download XLSX to download the spreadsheet with the assessment details