RAPID Discovery access is currently limited to Dell Technology and Partners.
Overview
RAPID Discovery is a feature of the Live Optics collector which scans a customer environment using Active Directory and network Port scanning to identify network devices (servers, laptops, switches, printers, storage arrays, etc). The tool further enhances the discovered assets by using a mix of WMI and SSH protocols to obtain additional details about servers and devices that it discovers.
This document outlines the process on how to run a RAPID Discovery collection from the Live Optics Collector.
As a reminder, please make sure to download the latest version of the Live Optics Collector.
Detailed Instructions
Download the Live Optics Windows Collector Software
From the Live Optics portal, Download Collectors can be selected from the left menu or from the radio button on the main screen
NOTE: the Windows collector requires .NET 4.5 or greater to be installed on the host running the collector
Click the Download button to start the download. A file named LiveOptics.zip will be downloaded
Once the file download completes, extract the contents of the zip file to the host where the software will run. The Live Optics collector does not install like a typical Windows application. Extracting the zip file is all that is needed to run the collector
NOTE: the collector can run on any host with IP connectivity to the storage array being profiled
Run the Live Optics Collector Software
Navigate to the directory where the Live Optics collector software is downloaded
Run LiveOpticsDotNet4_5
Click the "Yes, I agree" button to accept the End User License Agreement
NOTE: This question only appears the first time the collector software is run
Running RAPID Discovery
Select Server & Cloud from the Category

Then select RAPID Discovery from the

list of asset types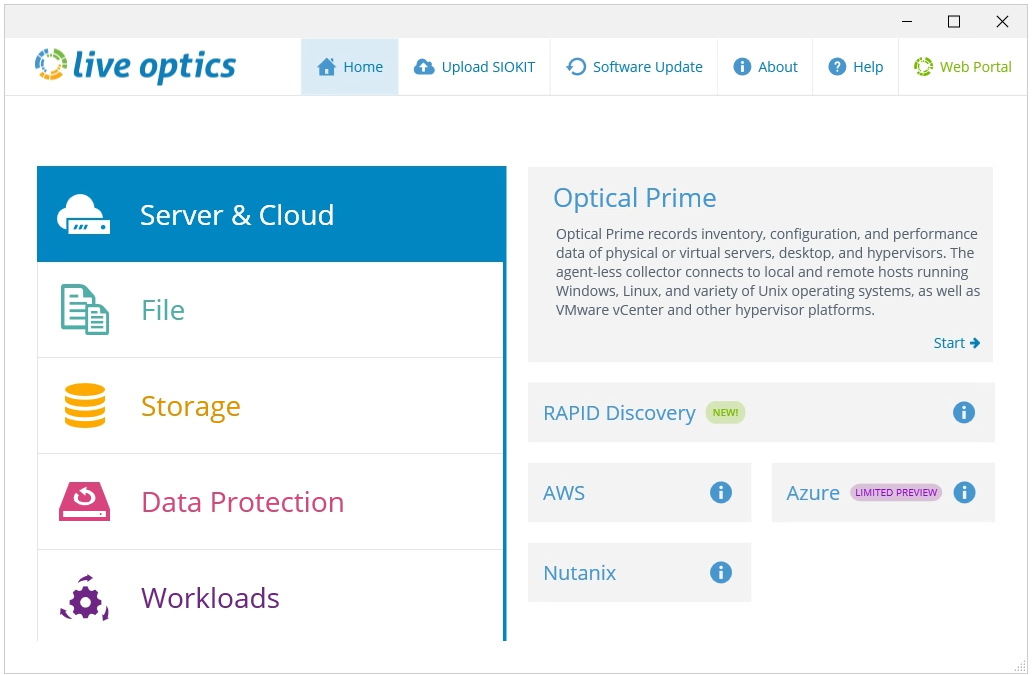 The Upload Option is already selected for you, click next
From this screen, initiate either IP Range Scans or Active Directory Scans.
a. For IP Range Scan, enter the corresponding IP Range to scan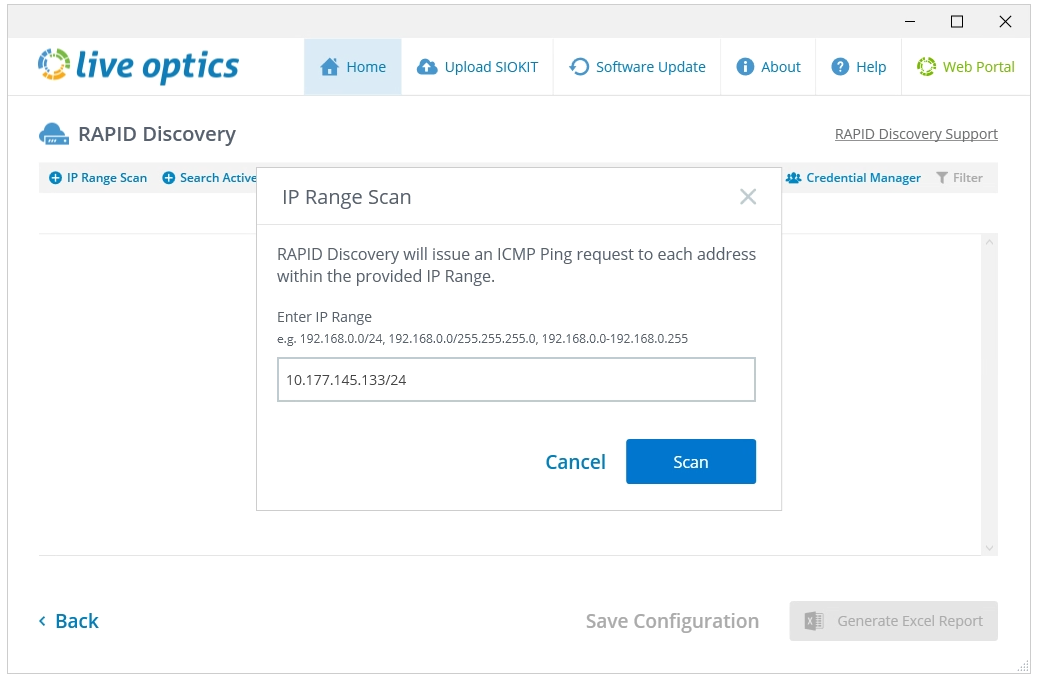 b. For Active Directory Scan, provide AD that contains all server objects.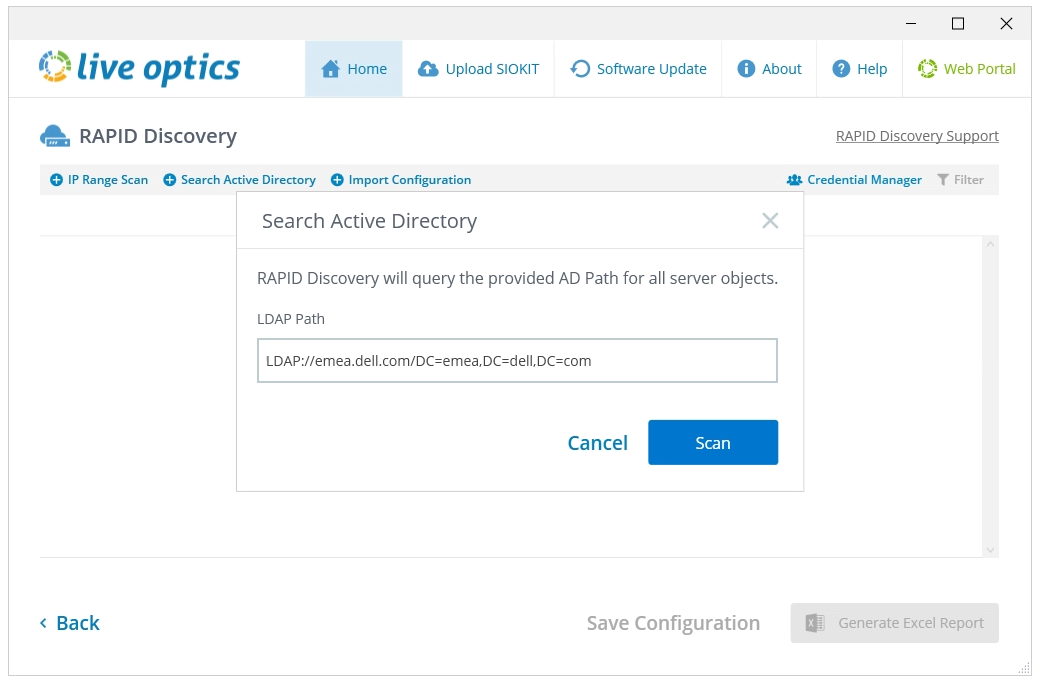 Sort, filter, and select objects from the list.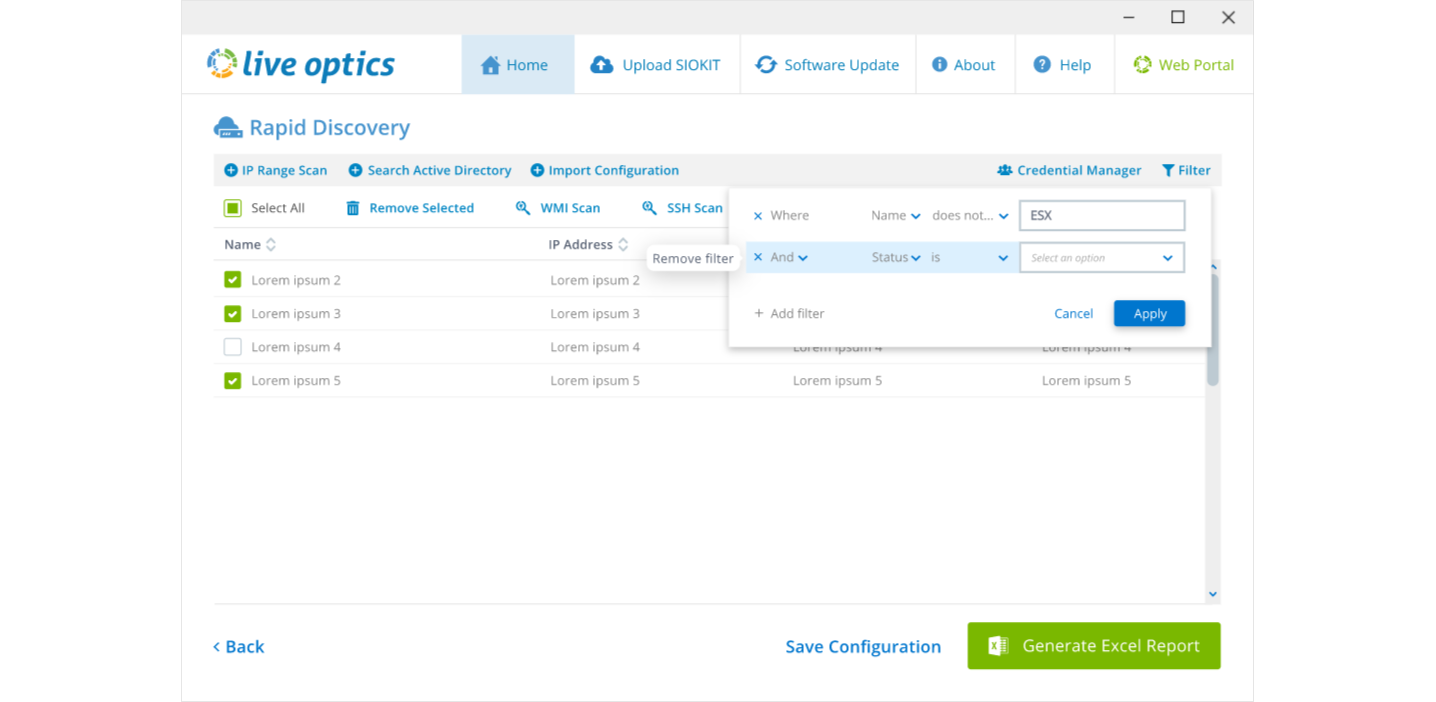 If needed, run additional, deeper scans of either the WMI or SSH types.
a. For these types of scans, you must provide credentials (username and password), using the Credential Manager.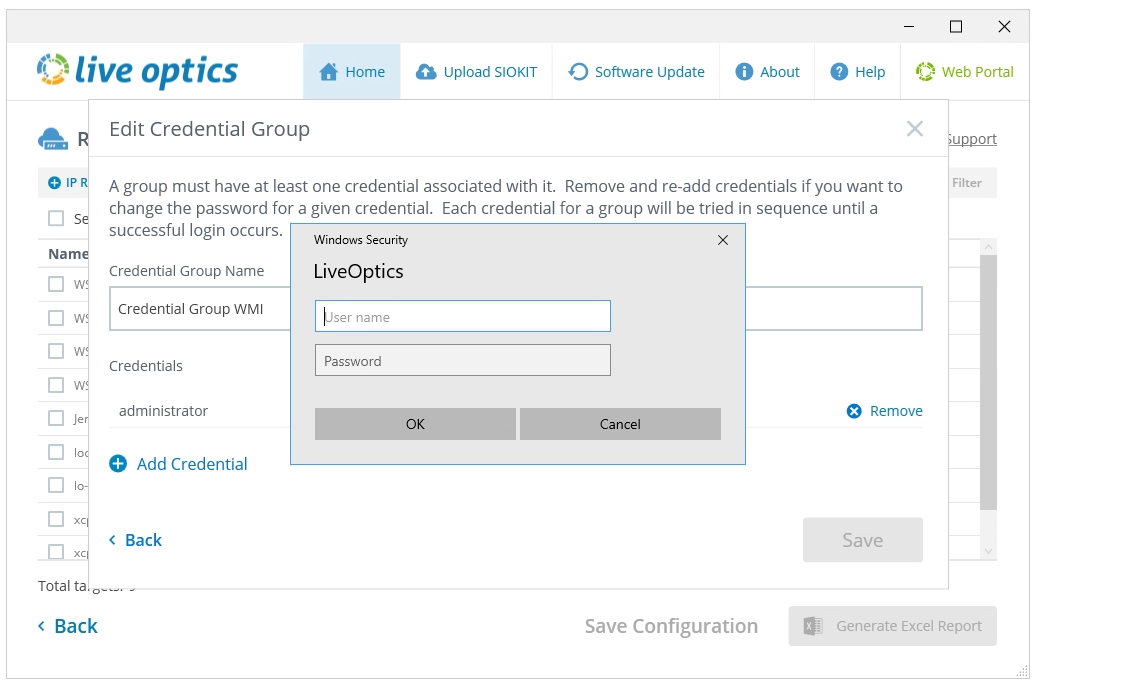 Once the collections has completed, click Generate Excel Report
a. For information regarding the Excel Definitions, please click on the following link: https://support.liveoptics.com/hc/en-us/articles/4408552652187-Rapid-Discovery-Excel-Definitions-
Additionally, can Save Configuration and Import Configuration.
a. This saves the data out to a JSON format file, which you can import into the RAPID Discovery tool.