Overview
Optical Prime provides an easy, non-intrusive way to collect, analyze and report performance data from virtually every IT environment. Your Optical Prime data is ready to assist you in understanding your performance envelope and allow you to visually analyze how your resources are working for you.
Below are easy steps for you to follow to get Optical Prime up and running on your IT infrastructure.
Download and run the Live Optics Windows collector software
There are two methods to download the collector software:

From the email you received from your systems consultant inviting you to Live Optics by clicking the Download Collector link.
From the Live Optics portal, select Collectors from the left menu, then Download Collector. For more information on how to download a Live Optics collector, please see knowledge base article Download the Live Optics Collector
Either option will bring you to the Download Collectors page.
Start Profile Selection Process
Go to "Server & Cloud" Category and choose "Optical Prime" asset type, click "Start"
In Optical Prime "Upload Options" screen, click "Next" to accept the recommended default upload option.
Click on the "Add Remote Server" button to add a server for discovery: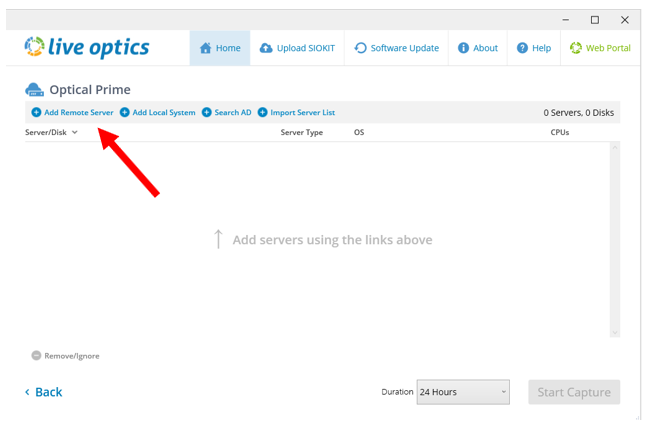 Select the Operating System of the target server.
Enter the address (IP or DNS name) of the server and click "Connect".
If prompted, provide the login credentials to the server.
Once your target servers are added to the list, click the "Start Capture" button
At this point the Live Optics Collector is now running and gathering performance data from your servers.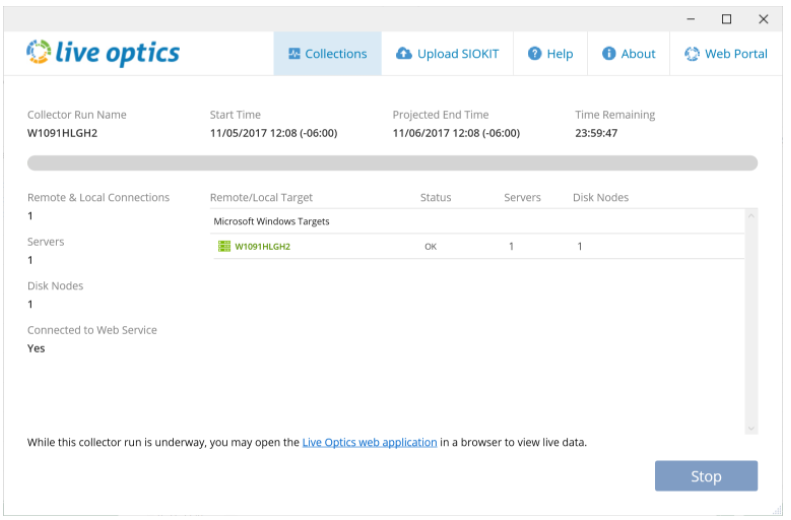 Note: While the Live Optics collector is running, you may not logoff nor reboot the computer where the collector application is running without terminating the collection prematurely. We recommend that the computer running Live Optics be locked during the collection.
View your Live Optics Project
A project will automatically be created for Optical Prime collections that are streamed back to Live Optics servers. To access your projects...
Note: If you don't see your project, or if you did not live stream your collection, then you must manually upload your collection data. After your collection completed, the Live Optics Collector application created a file with the SIOKIT file extension. This SIOKIT file is always created in the same folder where you ran the Live Optics collector. The SIOKIT file will be named after the HOSTNAME of your computer with the ".siokit" file extension. Once you have located the SIOKIT file, follow the steps outlined in knowledge base articles Uploading SIOKIT file in the Live Optics collector or Uploading SIOKIT file in the Live Optics Portal.
Congratulations! You have now created an Optical Prime project. You may run as many Optical Prime projects as you would like and create as many projects as you desire. We encourage you to run it as often as you see fit to help understand your current and future data resource usage.