The Optical Prime Live Optics software can identify and differentiate locally attached disks and disk clusters within individual devices using unique LUN naming IDs and disk serial numbers assigned to disks and any applicable clusters. In rare instances, there may be a need to break a cluster disk and list each node of the cluster as a local disk for each device. This is a change in the capacity statistics within the Live Optics project. This change will not affect the disk performance statistics (IOPS, latency, throughput, etc).
The Live Optics portal has added a feature that will allow you to destroy a cluster disk and list each disk node as a local disk for its server. This feature should make it easier to repair any incorrect disk associates with a project.
Below are the instructions for how to create a cluster disk in a Live Optics project.
Prerequisite Information
The Live Optics project has already been created from one or more Live Optics collector runs

Access to a Live Optics account should already be complete before beginning the following steps.
Access Performance View of project
Locate project to view and click on the name at the top

Once the project opens, click on the Performance View tab
Open Live Optics Cluster Disk Modal
To create a cluster disk from any local disk listed under a server in a Live Optics project, expand an individual server and highlight one of the local disk drives listed underneath. This will open a modal called, "Modify Disk".
Select local disks and create the cluster disk
To create a cluster disk, select any of the unassigned local disks that you would like to be included in the cluster disk, provide a name for the new cluster disk, and click "Save" at the bottom.
Once the cluster disk has been created, the following message will appear in Live Optics.
Review new cluster disk
The newly created cluster disk will now be listed in the "Shared Cluster Disks" list in the Live Optics project. If there are cluster disks listed prior to creating a new cluster disk, the new cluster will be listed at the bottom.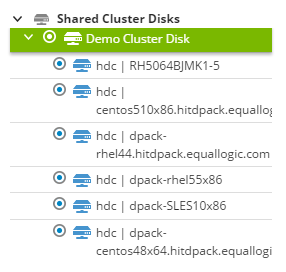 For information on how to destroy a cluster disk in an Optical Prime project, see knowledge base article Optical Prime Destroy Cluster Disk in a Project.