This article is designed to demonstrate the steps a Live Optics user (see knowledge base article Live Optics User Types Explained for more information) should take to create a project with multiple collector runs.
Prerequisite Information
All Optical Prime collector runs are already available within the Live Optics account when creating the project. This can be accomplished by either an End User previously sharing one or more projects with a Live Optics account, data was streamed to the Live Optics account of either a Dell User or Channel partner account during a collector run via Request Capture, or through uploading of SIOKIT files by Dell User and Channel Partner accounts.
Login to Live Optics with your credentials and access your profile
Access the Live Optics portal https://www.liveoptics.com

and login with your account credentials.

If you have never logged into Live Optics before, go to https://www.liveoptics.com/signup

and request your account be created or contact your Dell Sales Team and request they register you to the Live Optics portal.
Click View Collector Runs button on the Live Optics dashboard
To search collector runs associated with a Live Optics account, click the View Collector Runs button on the Live Optics dashboard. This will allow a Live Optics user to review all their collector runs.
Add collector runs to action group
A "Search Collector Run" window will appear at the top with various search options including account name, email address, data range and other advance options. After entering the appropriate search limits then select "Search" button.
The results will be displayed below where you will be able to select the specific collector run that you want to include in your project.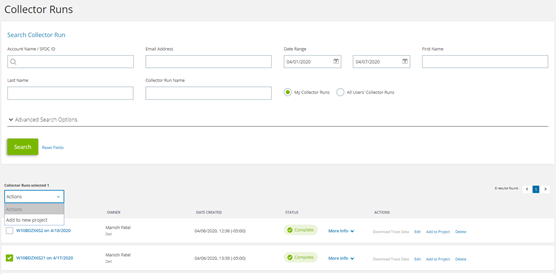 Scroll down in Collector Runs search page until the list of associated collector runs is shown. For all Optical Prime collector runs that are to be assigned to the project being created, click "Add to New Project" from the pull-down menu
Enter name of the Optical Prime project and submit request
Once all collector runs are selected, a project name needs to be provided. Next select "Apply" before Live Optics begin the processing of the Live Optics project.

Once all collector runs are uploaded and the project has been created, the following notice should popup on the bottom right of the screen.

Project is ready for review
You will now be able to access your project from the dashboard of your Live Optics account. Go to the dashboard and click on the project to review the data.