Overview
The Live Optics portal has introduced a centralized administration tool for Partner Users and OEM Users. This tool, called Live Optics Teaming, will allow one or more admin users to be set for each Live Optics Partner and OEM Company with the Live Optics portal. Live Optics Teaming will allow an appointed admin to register, disable, and reset password for their Partner Users, as well as designate a common graphic used for co-branding of Live Optics PDF & PPT reports and customer registration kiosk pages. The Live Optics Team admin can also set up a unique customer registration kiosk page where all customer requests are routed to a specific team member. This document provides the user guide on Live Optics Teaming Administrator.
Getting Started With Live Optics Team Administration Live Optics Team Admin Wizard
After being assigned as an admin of a Live Optics Team, you will be presented with an initial wizard upon logging into Live Optics to guide you in the initial setup of your Live Optics Team. From the wizard you have the ability to add existing Live Optics users in your company to your Team or register new accounts to Live Optics as Team members, setup a standard company logo for co-branding Live Optics PDF & PPT reports and customer registration kiosk pages, and setup a unique customer signup page for your team to use.
The welcome screen should popup upon login. Click "Next" to begin your Team configuration.
Add Users to Live Optics Team
As a Team Administrator, the first thing you will complete is adding members to your Live Optics Team. There are two ways you can add Live Optics users to your Team. First, the Live Optics portal will show you any user in Live Optics that has the same email domain as your email address and ask you to select which members should be added to your Team. You will select all of the accounts that you would like added to your Team and click "Next".

If you have any people within your group that do not have Live Optics accounts and you would like to register them, you will have the chance to complete the signup process on the next page of the wizard.
To register a new account at Live Optics, enter information for all of the requested fields (Email, First Name, Last Name, and Country) and click the Register button. This will send that person an email from Live Optics with instructions on how to activate their account. You can register as many accounts as desired from this menu. Once all accounts have been registered, click Next.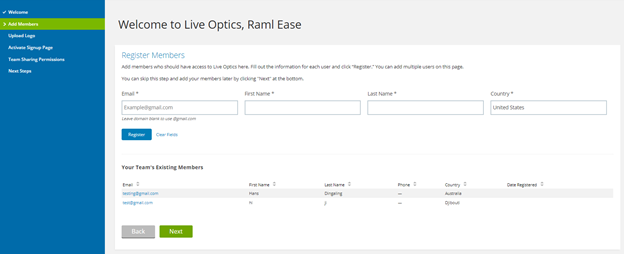 Upload Company Graphic
Live Optics Team Administrators have the ability to designate a specific company graphic to be used with Live Optics reports and customer registration kiosks. All members of your team will use this graphic regardless of the graphic they previously set up with their own accounts.
Click "Browse for image" and select the image you would like to be configured for your team. The Live Optics portal will resize any images that are larger than 200 x 200 pixels. Once completed, click "Next".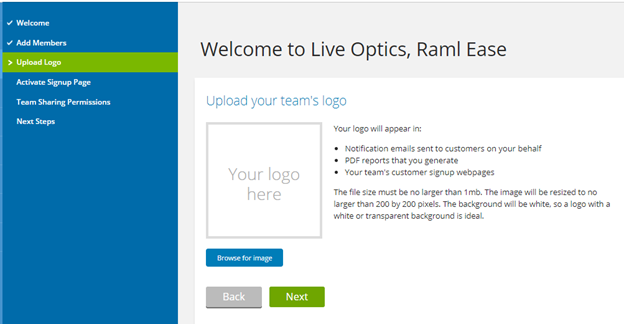 Configure Team Customer Signup Page
The final configuration page for the wizard allows you to set up a team based customer signup page that can be used by you and your team members for any marketing campaigns, website promotions, email signatures, etc where you would like for your customers to begin using Live Optics with you. The unique aspect of the team signup page is that you can designate a person or group email address as the recipient of any customer interaction with your signup page. The only requirement is that the email address entered is assigned to a Live Optics account. After all settings have been completed, click "Next" to finish the wizard.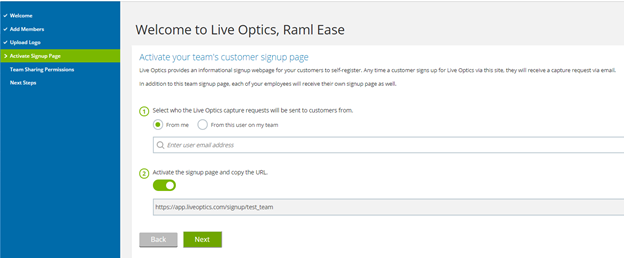 Team sharing permissions
The final configuration page for the wizard allows you to enable all Team members sharing permissions. Once this is enabled all team members will have access to the team member's project.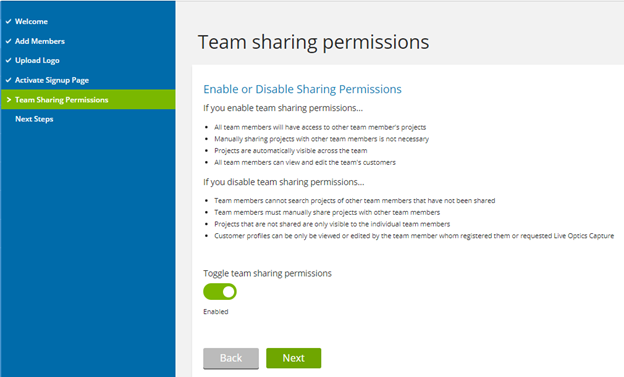 The final screen will display that setup is complete.

Administering Live Optics Team After Wizard Completion Accessing Team Menu
Once the Team wizard has been completed, you will be able to access all Team administration tools from the Live Optics menu. Click "My Team" from the menu to be taken to the Team Members page. You can navigate between all three Team configuration pages by clicking on the "Members", "Upload Logo", or "Customer Signup Page" links.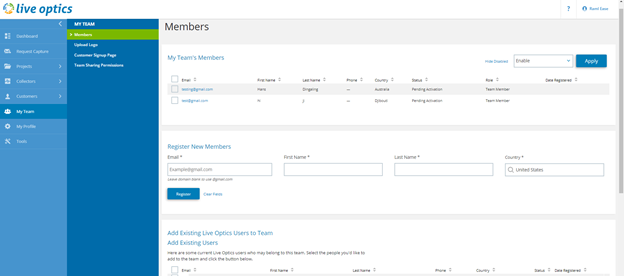 Team Member Administration
From the Team Member's administration page, you can add existing Live Optics users with the same email domain as your account into your team and register new users within your company to Live Optics. There are two features available to your team administration that were not available during the initial configuration wizard. First, you will be able to enable and disable Live Optics accounts for team members as needed so that you are in control of who within your team can access Live Optics.
Enabling or disabling accounts within Live Optics Teams is a 3 step process. First, select all of the accounts that you would like to enable or disable. Second, click the drop down box (upper right hand side) showing "Enable" and choose either option. Third, click the Apply button to commit the account action selected. During processing, a screen with notes will allow you to enter information on the actions being taken.

Should any members of the Team need to have their passwords reset for their Live Optics accounts, you have the ability to assist them in addition to the password reset link on the login page.
Company Logo Administration
During the initial Team configuration wizard, every Live Optics Team Administrator has the opportunity to designate a corporate graphic to be used in the customer signup page and PDF reports for the team. At any time, Team Administrators are able to alter this image as needed by clicking the "Upload Logo" Link under My Team. By either clicking on the "Browse for image" or "Remove Logo" buttons, a Team admin is able to change or remove their custom image.
Note: Removing the Corporate logo will revert each Team members image to any graphic individually set by them.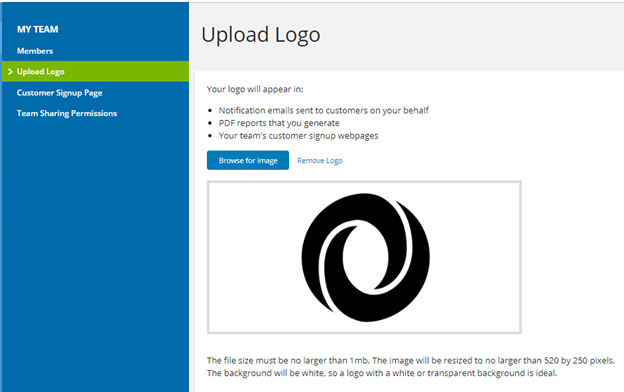 Customer Signup Page
As with the Corporate graphic, the Team Customer Signup Page can also be altered after the initial configuration wizard. A Team administrator will click "Customer Signup Page" to change two options. First, they can change which Live Optics Team member will receive all customer signup requests sent to the Team registration page. Second, the customer registration page for the Team can be enabled or disabled to suit the needs of the Partner or OEM Team in Live Optics.