Overview
The Live Optics collector supports sending data to the Live Optics web portal either automatically when a collection is occurring or by uploading a file that is generated locally by a collection, called an SIOKIT file (see knowledge base article What is an SIOKIT File? for more information.
This document outlines the process for using the collector to upload a SIOKIT file.
Quick-Start Instructions
Launch Live Optics Collector (Windows .NET version)
Click Get Started
Click "Yes, I agree" to accept the End User License Agreement (prompted only on first execution)
Click "Yes, this is me" after verifying your identity is correct (prompted only on first execution)
Click "Upload SIOKIT" on the top menu bar
Click "Browse for File", select the SIOKIT file to upload, then click Open
Enter a name for the project to be created
Click Upload
Click Quit to exit the application
Detailed Instructions
Download and run the Live Optics Windows collector software (if not done so already)
There are two methods to download the collector software:

From the email you received from your systems consultant inviting you to Live Optics by clicking the Download Collector link.
From the Live Optics portal, select Collectors from the left menu, then Download Collector. For more information on how to download a Live Optics collector, please see knowledge base article Download the Live Optics Collector
Either option will bring you to the Download Collectors page.
Note: the Windows collector requires .NET 4.7.2 or greater to be installed on the host running the collector.
Uploading the SIOKIT file
From the upper right menu bar, select Upload SIOKIT.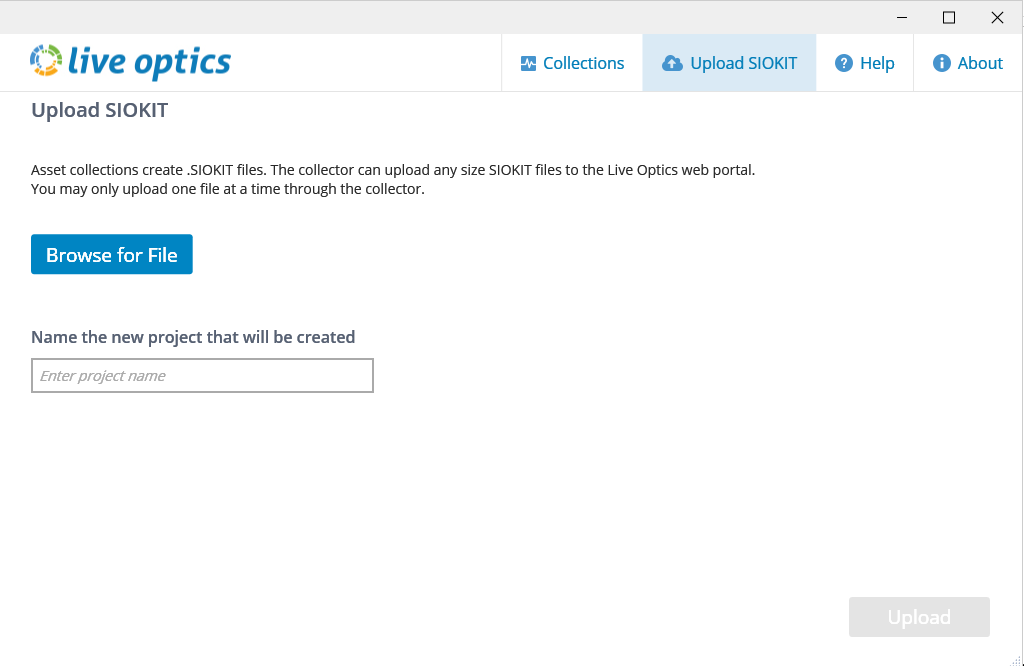 Click Browse for File. Select the SIOKIT file containing the already completed collector run for the chosen asset.
Enter the name of the project to be created. Click Upload.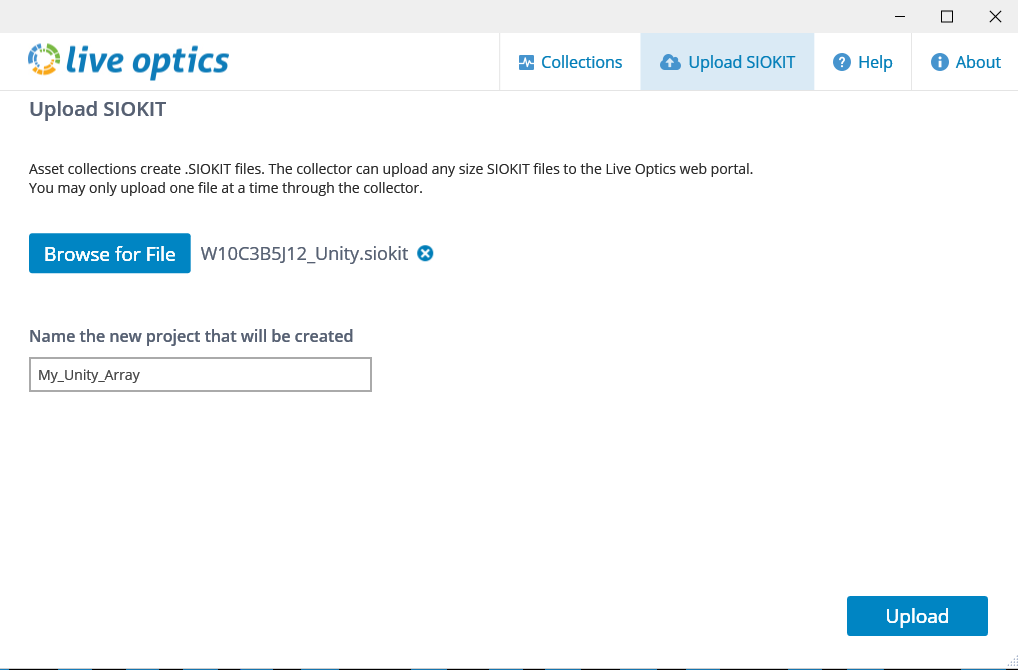 The files are uploaded to the Live Optics portal. During the upload, a status bar indicates the progress. As some SIOKIT files can be quite large, the upload may take some time to complete depending on the speed of your Internet connection.
The collector will indicate when the upload has completed. Click Quit to close the collector.
You will receive an email from Live Optics when your project is ready for viewing on the web portal.
Still can't find what you need?
Speak to Live Optics Support by Creating A Ticket. You must be logged in to send a ticket to Support.