What is Live Optics?
Live Optics is a free software tool that inventories and analyses your current IT environment. It automatically collects real-time data on storage, servers, data protection, and file systems, and using an intuitive dashboard and detailed graphs, delivers a holistic view of your environment. It helps to better understand your environment, optimize your IT investments, and improve your overall system capacity and performance.
Live Optics collects data from all vendors, hardware, operating systems, and platforms, making it especially useful in multi-vendor and multi-cloud environments. It also provides pricing comparisons for public cloud solutions, including Amazon AWS, Google Cloud, and Microsoft Azure.
There are two Live Optics collector download options:
Corporate Edition - This collector version requires registration with a corporate email address for access to all Live Optics configuration and performance data collection options. See Download the Live Optics collector to get started.
Personal Edition - This collector version does not require registration with an email address, but offers a limited selection of data collection options. See Download the Live Optics Personal Edition collector for more information.
Live Optics data collection
The Live Optics collector gathers data from the five product categories below. Each category contains several data collection options.
Server and Cloud - View live host and VM inventory and performance statistics and examine performance metrics over time.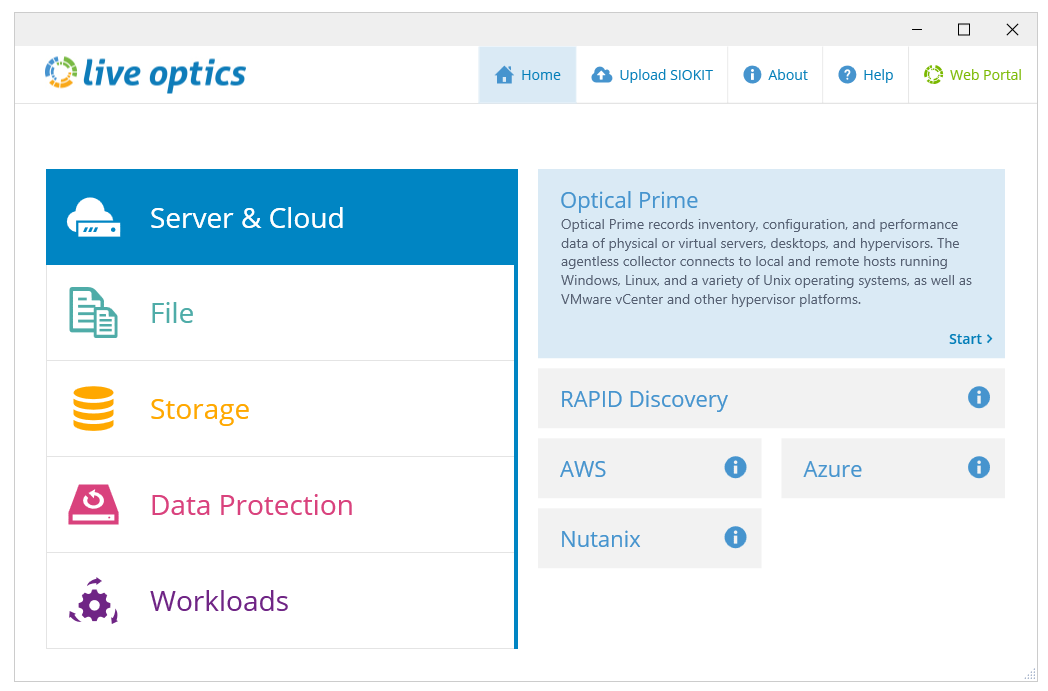 File - Insight into unstructured data through rapid characterization of storage growth, file types, and predictive potential for data archive, compression, and deduplication.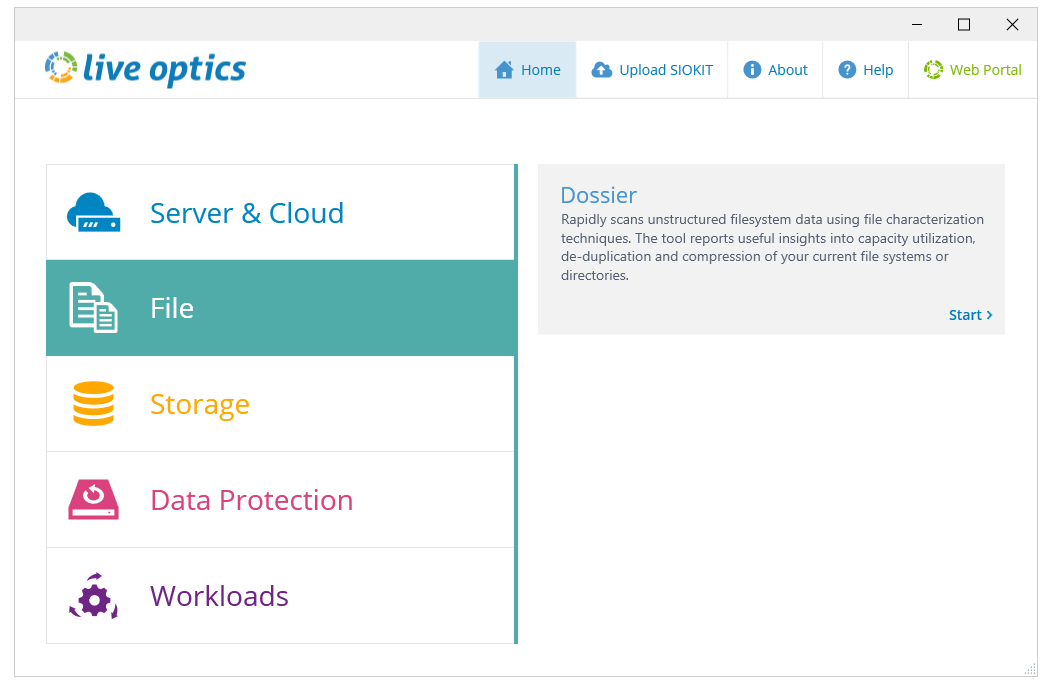 Storage - View detailed vendor and model specific data storage hardware, including inventory, configuration, and performance history.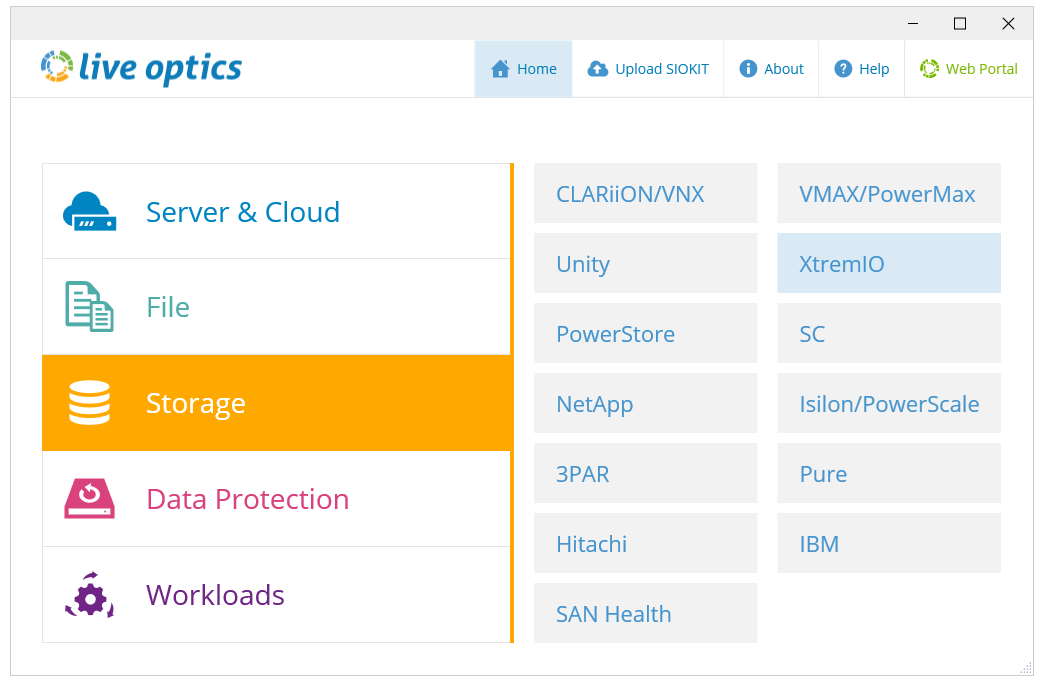 Data Protection - Insight into vendor specific backup software and appliances, data protection configuration, cycles and policies, and the front-end capacity of protected systems.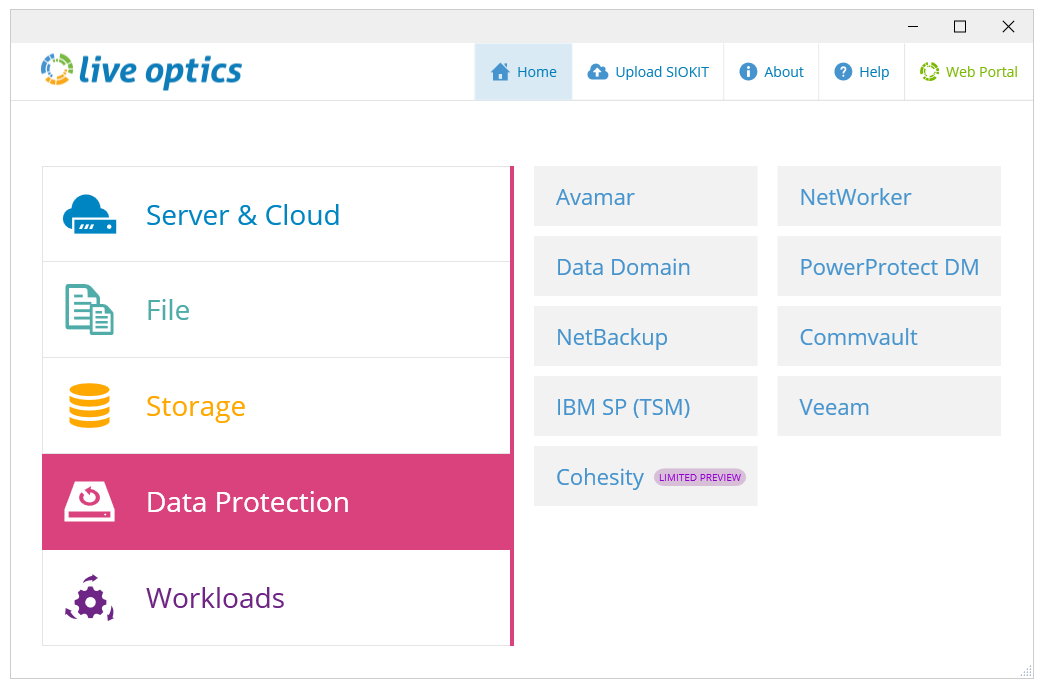 Workloads - Generate summaries of Oracle and SQL Server databases, capacity reports, and performance metrics.