Overview
When a user initially visits the cloud pricing tab the Get Latest Pricing and Download Excel tab will be grayed out. The user will select the region of their choice from the dropdown menu and hit the Get Latest Pricing button. This will provide current pricing for AWS, Azure and Google Cloud. Please note Live Optics updates the vendor pricing daily and all prices are based on US dollars.

Once the region and Get Latest Pricing button is selected the current selected region and date will appear. This information will persist when returning to this project.

The VM Cloud Pricing charts contains a radio button with a choice of AWS, Azure or Google Cloud. The Y-axis provides the pricing based on the 1-year offering. The bars in the chart represent VMs which are sorted most to least expensive. The black line across the chart indicates Avg Price per VM. A hover over of the individual bars shows VM Name, Price, vCPU, Memory (GB), Capacity (GB), Config Matched and Nearest Largest Config.
Below the chart is the Monthly Public Cloud Pricing Comparison chart which compares monthly costs at a 1 year committed price discount across all three public cloud vendors. The Average Virtual Machine chart provides the average estimated monthly price per vendor and includes the vCPU, Provisioned Memory and Storage values.
NOTE: VMs that do not have 1-year pricing are excluded from the charts. The following message will appear at the top of the VM Cloud Pricing chart "1 Year pricing is unavailable for NN VMs for the AWS service provider"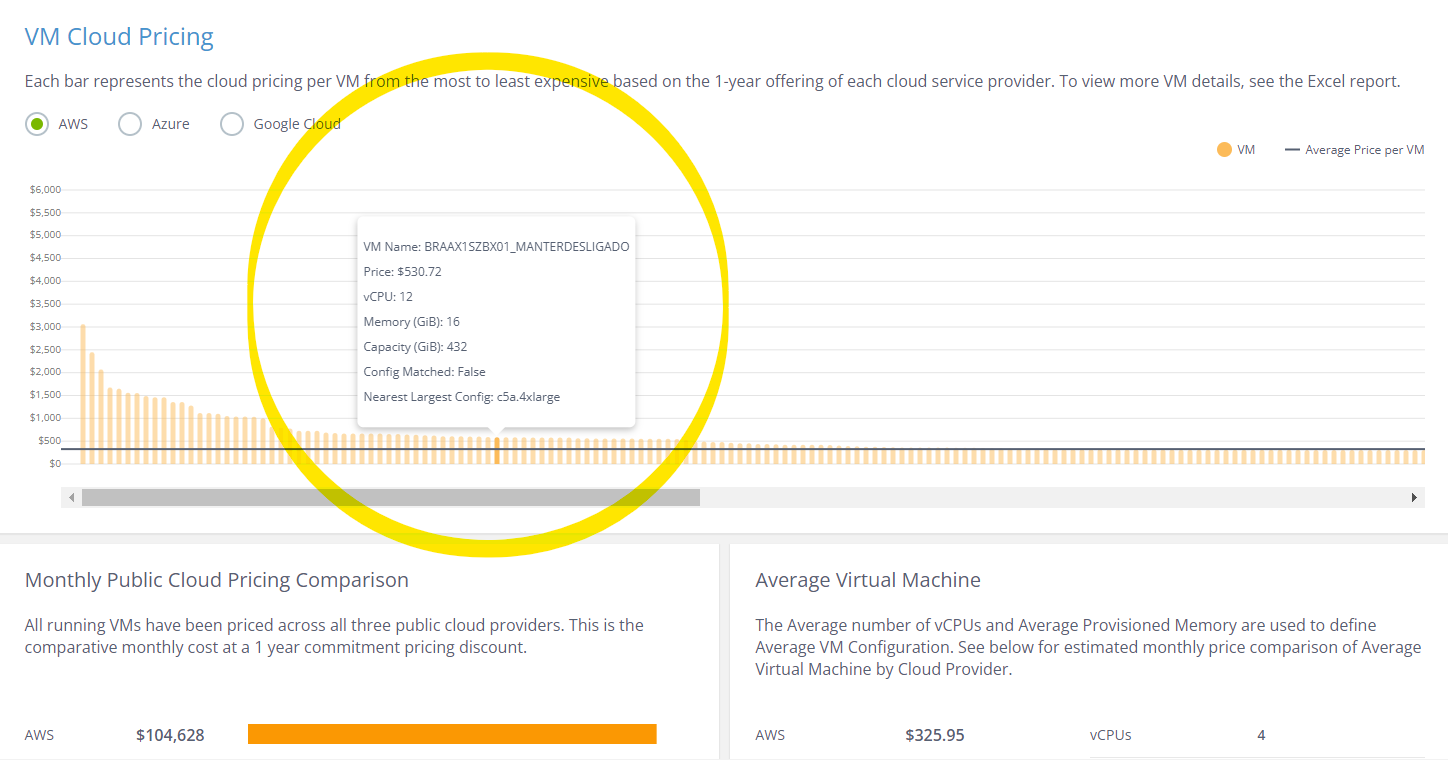 The Download Excel report contains detailed information about each VM. This includes pricing for the selected region, date of retrieval, 1-year and 3-year pricing per vendor and notes about how the pricing was determined.
If the user selects the Export > Download to Excel on the top menu, before selecting a region, the pricing will be based on the default region (US East).
If the user selects the region and then selects the Download Excel button prior to selecting the Get Latest Pricing button, the excel will contain pricing for the selected region and the online viewer charts/data will be updated to the new region choice.